The 2022 Subaru Love Promise Customer and Community Commitment Award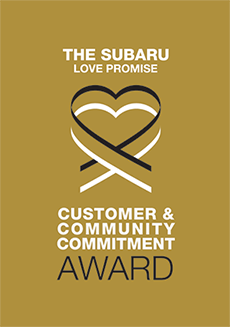 We've been nationally recognized for our dedication to our customers, our community, and the Subaru Love Promise.
We're honored to receive the 2022 Subaru Love Promise Customer and Community Commitment Award. This award nationally recognizes elite Subaru retailers who provide an exceptional customer experience at every interaction with Subaru. These retailers have also demonstrated an outstanding commitment to supporting passions and causes in their local communities in important areas such as the environment, community, health, education, and pets.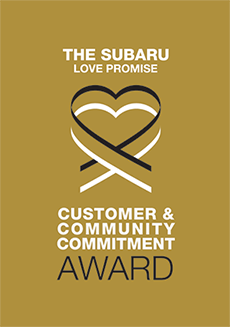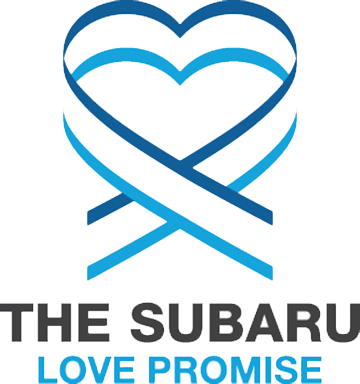 What is the Subaru Love Promise?
Subaru and our retailers believe in making the world a better place and the Subaru Love Promise is our vision of respecting all people. This is our commitment to show love and respect to our customers and to work to make a positive impact in the world.
How is W & L Subaru dedicated locally to the Love Promise?
Our Love Promise can be seen in various partnerships with local charities and non-profits. We're grateful for the opportunity, not only to be a part of our community, but to serve it as well. At W&L Subaru, we are more than just a car dealership.
Danville PSPCA, Mostly Mutts of Sunbury
Terra Cycle, Everyone's Playground, Selinsgrove, Little House, Northumberland
Grace Beck Elementary School , Sunbury Christian Academy, Bucknell Universtiy
Child Advocacy Center in Sunbury , Union-Snyder Community Action Agency , Susquehanna Valley Baseball Association
Children's Hospital at Geisinger Janet Weis Children's Hospital, Leukemia and Lymphoma Society , Evangelical Hospital - Thyra M. Humphreys Center for Breast Health
Love Promise Stories from W & L Subaru
Subaru and W & L Subaru believe in making a positive impact on the communities in which we live and work. We uphold that belief through our Love Promise Community Commitment. Every month, we select inspiring stories from customers and partners from around our area who strive to support our collective commitment and feature them here
Helping Our Hometown Celebrate - Meghan B
W&L Subaru proudly sponsored the Pineknotter Days event in our hometown of Northumberland, Pennsylvania in partnership with The Northumberland-Point Township Days Association.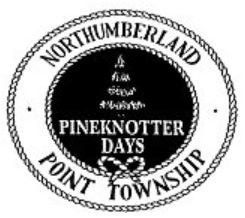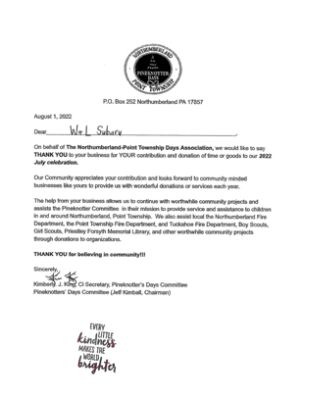 ---
Hitting A Home Run In Our Community - Bryce K
W&L Subaru sponsored the Shikellamy Braves Baseball Boosters, who had a league record of 8-8 and an overall record of 8-12-1. The donations from W&L Subaru were used toward the purchase of new turf inside of the batting cages, updating hitting equipment and other necessary equipment. We're proud to have supported our athletic teams and make an investment in the future of every player.
---
W&L Subaru Loves To Care - Bryce
July 2022, W&L Subaru partnered with The Leukemia & Lymphoma Society and Subaru of America to spread hope, love and warmth by donating and delivering blankets and Message of Hope cards to patients at Geisinger Hematology Oncology in Danville, PA.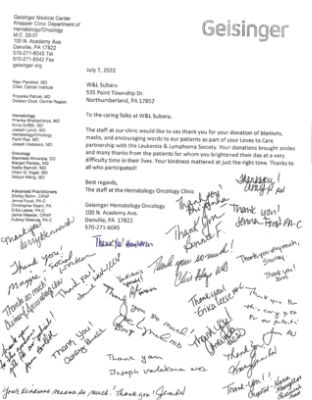 ---
Inspiring Local Patients with Hope Straight from the Heart - Amber W
The words that come to mind when describing W & L Subaru's Dealer Principal, Andy Long, and his staff are philanthropic, kind, caring, enthusiastic, humble, generous, and life changing. Tuesday, June 28, 2022, was my first time in Danville, PA, as well as my first introduction to the W & L Subaru staff. Andy Long, his wife, Sylvia Long, Sales Associate, Kyle Bennar, Marketing Director, Meghan Balum, and Marketing Assistant, Bryce Kile, continued a 4-year tradition at Geisinger Medical Center in Danville, PA, inspiring hope and delivering warmth to the patients undergoing cancer treatment. They brought this hope in the form of blankets, activity kits, and sincere, encouraging messages for patients, families and caregivers. This partnership with The Leukemia & Lymphoma Society's Eastern Pennsylvania – Delaware Region is incredible. Every single person present from W & L was enthusiastic and committed 100% to the delivery. There were several expressions of disappointment that we would not be able to deliver the items directly to the patients due to current hospital protocols in place, and of course, we all desire to keep the patients as safe as possible. Thank you to the staff of Geisinger Medical Center (Cheryl Scicchitano, Margaret Vandermark, Margaret Reed, Michele Long, and Alexis Dawson) for taking time out of your busy schedules to accept the deliveries. After the deliveries, I was invited to join Andy and the staff for lunch at a local restaurant. During my couple of hours chatting, I discovered Andy's passion for helping others begins in his family, then extends from staff and local organizations, to people literally around the world. Thank you for your humbleness, your kindness and your generosity. You are truly remarkable and the praise your staff gives you is yet another example of the character you exhibit daily in the work you do. Your commitment to the Subaru – LLS partnership helps us in our mission: to cure leukemia, lymphoma, Hodgkin's disease and myeloma, and improve the quality of life of patients and their families. I am excited to see what we can do next year!

---
W&L Subaru Supports North Union United Soccer - Jan B
W&L Subaru donated to our Girls U-16 soccer team as they traveled to Florida to compete against some of the best teams in the country in the USYS President's Cup National Championships. Your support was so greatly appreciated and we were honored to have represented Pennsylvania and W&L Subaru. Your generous donation helped us with our travel expenses and we all say "Thank you"!! -Sincerely, The NUU 06 Wave Girls, Coaches and Families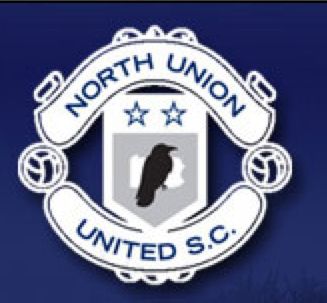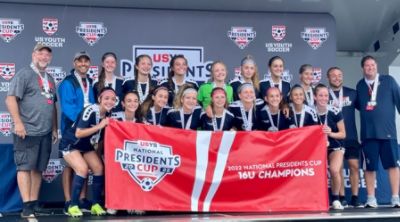 ---
W&L Subaru - CHANGING KIDS' HEALTH AND CHANGING THE FUTURE - Jackie S
W&L Subaru held its annual Share the Love event from Nov. 18 to Jan. 3 with Children's Miracle Network at Geisinger Janet Weis Children's Hospital represented as the dealer's hometown charity. During the Share the Love event, Subaru donates $250 for every new vehicle purchased or leased to the customer's choice of participating charities. This year, the dealership displayed snowmen icons in the showroom to recognize their Share the Love customers. W&L had another record-breaking year by raising $80,003 during the campaign for programs, services and equipment to be utilized by more than 160,000 sick and injured kids treated at Geisinger Janet Weis Children's Hospital each year. This takes W&L Subaru's 9-year fundraising total to over $360,000! Funds from the 2021 event support the health and wellbeing of local children, including funding for essential services like the Child Advocacy Center and Child Life Program. In addition, the campaign helps provide equipment and comfort items for the children's hospital used in the care of children like Saige LaCoe of Clarks Summit, PA. To learn more about Saige's journey and how the Child Life Department helped with her care, copy and paste this link into your web browser to watch her video: https://youtu.be/kv5wXgLDNWE. Check presentation photo caption: Representatives from W&L Subaru present a check to leadership of Children's Miracle Network at Geisinger Janet Weis Children's Hospital (CMN). In the photo (from left), from CMN - Jackie Seidel, Director; Dr. Paul Bellino, Chairperson and Pediatric Hospitalist; from W&L Subaru - Shaunda Snyder, HR Director; Gregg Bassett, General Manager; Clif Clymer, Fixed Operations Director; Andy Long, owner and his wife Silvia Long.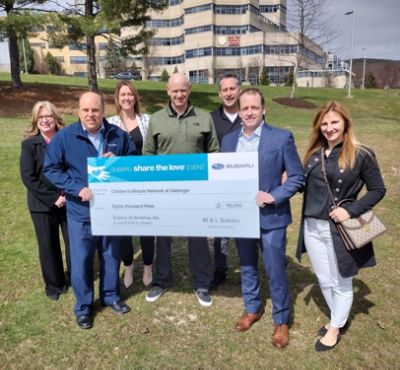 ---
After House Fire Support - Emily S
On June 1, we woke up to a horrible house fire on Wheatley Avenue and lost everything we once knew. Even our vehicles were melted from the extreme heat. However, after this catastrophe W&L Subaru reached out to us. They gave our family a care basket of gift cards, Yetis, shirts, a hoodie, and a notebook. This was incredibly sweet, thoughtful, and unexpected. Thank you, Northumberland W&L Subaru, from the bottom of our hearts!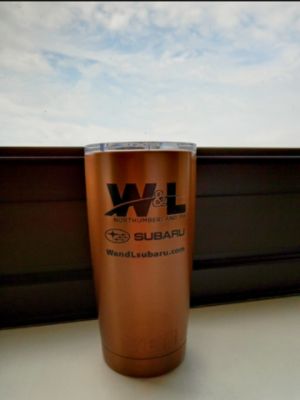 ---
A Love Promise reaching across the world - Nicu G
In April of 2022, just as the Russian war on Ukraine was gaining attention around the world, and people began reaching out to help, W&L Subaru launched a fundraiser to support Ukrainian refugees. Andrew and Silvia Long had been in contact with Nicu, an elder from the board of i.Believe Christian Center in Romania with an offer that would change lives. The plan was simple … for each new Subaru sold, W&L would donate $250 to a partner organization – the i.Believe Christian Center. Our partners at i.Believe would be responsible for identifying areas with the greatest need and distributing funds accordingly. What we didn't know at the time was how successful and widespread this effort would become. Our vehicle sales fundraiser helped bring in $25,000 toward the humanitarian efforts undertaken by i.Believe, and that was only the beginning. With these donations, i.Believe was able to purchase a van to deliver fresh produce, food, and other goods to refugees and even transport refugees to safety, something they had been employing personal vehicles for prior. Their outreach is not just in Romania, they organize weekly trips to the citizens of Ukraine to supply them with essentials. The partnership and ongoing donations to i.Believe has helped supply items to a charity center where families are able to pick up the items they need – everything from diapers to food items to clothing – all made possible through donations. Our cause began to attract attention from outside of our local community, with requests pouring in to donate privately to the effort. Graciously, W&L was happy to accept and deliver those donations. Andrew took a quick trip – a total of 24 hours of travel time by air and by car – to the Ukrainian border to see first-hand the impact of the donations on the refugees and their families. He spent time talking and touring the region with the men and women leading the efforts to help those in need. In addition, he also visited a facility which was repurposed as a full-service shelter for children. The funds donated have led to new, continuing endeavors by i.Believe including taking the children on fieldtrips, hiring translators to better aide in communications and organizing playdates with families to act as a support system. These efforts will help the children and adults cope with PTSD, negative memories and enable them to begin healing as they start over. The efforts undertaken by our dealer principal Andrew Long, and his wife Silvia are so inspiring that they were recently acknowledged at a dealer summit, with twenty of the top dealers from across the United States. At which time several other dealer principals approached the Longs to inquire about how they could join in the efforts by donating funds through the connections the Longs have made. These requests and efforts underscored the need for a new endeavor, a non-profit organization aptly named "The Long Arms of Love Foundation," whose mission will be to provide aide to those in need through community-driven donations. To see the impact these efforts and donations have already made, visit this link, https://youtu.be/nXu6FOM9RzY, and watch the video sent to us from i.Believe.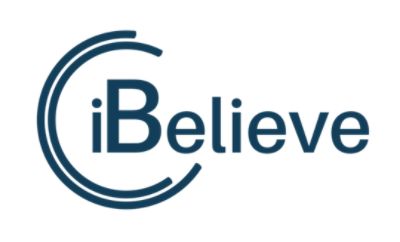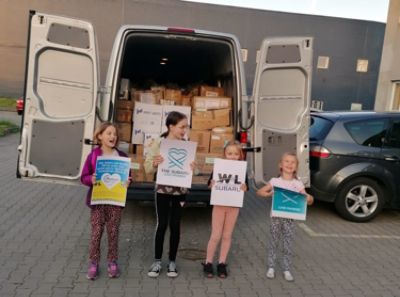 ---
Inspiring Others with Love, Hope and Kindness - Bryce K
To begin, this story isn't about me. This story is about Andy and Silvia Long from W&L Subaru, two people with big hearts who want to do good things in the world. I'm sharing this story as a team member who is extremely proud to be a part of an organization that cares for everyone, inside AND outside the organization. When Russia's war on Ukraine began and families fled for safety, leaving behind everything they owned, Andy and Silvia knew they needed to help however they could. Until the war, Nadiya and her family were just like any other family. Her and her husband both operated businesses, they had a home, and their three children were happily in school. But everything changed. They would spend weeks moving from bunker to bunker searching for a safe location, before making the difficult decision to leave Ukraine. Nadiya knew she needed to do something to help others, so once her and her family arrived in Romania she began speaking to the media. She made pleas for help to get baby formula, food, clothing, and essentials on social media. One post for help went viral and later attracted the attention of Silvia, who reached out to her to find out how she could help. Nadiya asked for yeast, so the Longs sent more than 1,000 kilos of yeast to a bakery in Odessa, Ukraine so that they could continue to make and supply the much-needed food. They spoke more and identified more areas where aid was needed. Connecting with their family in Romania, only a few short hours from Ukraine, the Longs started searching for ways to help the many families in need of basic necessities, transportation and safe shelter. The efforts of the Longs are ongoing. Nadiya and her family, who are now safely living in the Longs home in Romania, miles from the war-torn city they left behind, stays in contact with the Andy and Silvia to keep them updated on their situation, as well as sending updates on how their efforts continue to impact their family's lives daily. Since first contacting Nadiya, Andy and Silvia have also helped the family with monthly financial support, a home and access to their Subaru Crosstrek for transportation as well as securing an attorney to assist with the VISA process so they can move to the United States. The help the Longs have provided will continue once they arrive here in the States to begin their new life. They will receive a Subaru when they arrive and have accommodations until there on their feet here in America. Their gratitude knows no bounds… "What Andrew and Silvia are doing – I cannot explain how much help this is… unbelievable help. You feel not alone in this world. You feel like there's people who will support you. Silvia and Andrew Long, they give us stability." -Nadyia In the short months that I've been with the W&L Subaru family, I have witnessed a tremendous amount of good will and a willingness to help others not only on the other side of the world, but right here in our community. This concept extends beyond Andy and Silvia to the many people who they employ at W&L Subaru. The Longs not only live the Love Promise in the workplace, but in their home. Their work is not only humbling but has an immensely positive impact on every life it touches and is evident in the kindness of their actions every day. To hear some of Nadiya's story, visit: https://youtu.be/ngvD9Gqwqd4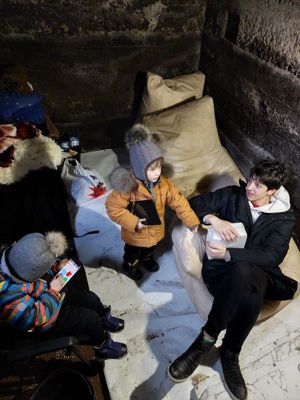 ---
Connecting shelter community with new opportunities - Shaunda Z
Through our connection with our local CSIU office we directed to Haven Ministry Center, a non-profit Social Services & Welfare organization that provides temporary living assistance to individuals or families without shelter. These individuals are typically unemployed or under-employed and often cannot afford housing. On Tuesday, June 7th, W&L Subaru purchased and donated laptops to help the residents of Haven Ministry Center in their search for new employment and other opportunities.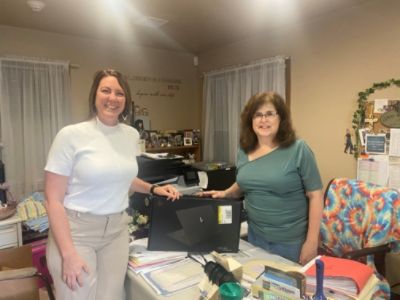 ---