The 2021 Subaru Love Promise Customer and Community Commitment Award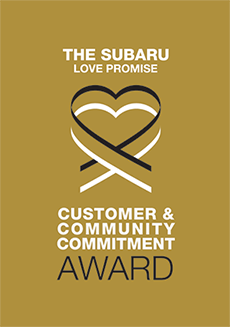 We've been nationally recognized for our dedication to our customers, our community, and the Subaru Love Promise.
We're honored to receive the 2021 Subaru Love Promise Customer and Community Commitment Award. This award nationally recognizes elite Subaru retailers who provide an exceptional customer experience at every interaction with Subaru. These retailers have also demonstrated an outstanding commitment to supporting passions and causes in their local communities in important areas such as the environment, community, health, education, and pets.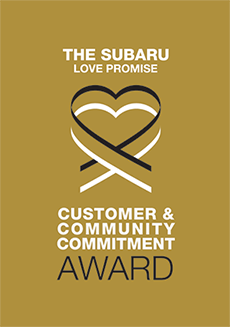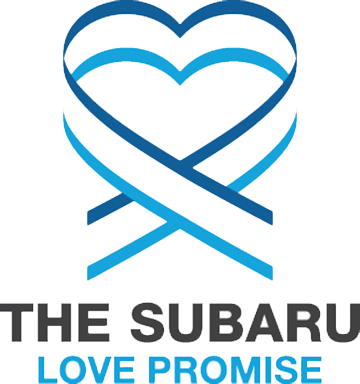 What is the Subaru Love Promise?
Subaru and our retailers believe in making the world a better place and the Subaru Love Promise is our vision of respecting all people. This is our commitment to show love and respect to our customers and to work to make a positive impact in the world.
How is W & L Subaru dedicated locally to the Love Promise?
Our Love Promise can be seen in various partnerships with local charities and non-profits. We're grateful for the opportunity, not only to be a part of our community, but to serve it as well. At W&L Subaru, we are more than just a car dealership.
Danville PSPCA, Mostly Mutts of Sunbury
Grace Beck Elementary School , Sunbury Christian Academy, Bucknell Universtiy
Child Advocacy Center in Sunbury , Union-Snyder Community Action Agency , Susquehanna Valley Baseball Association
Children's Hospital at Geisinger Janet Weis Children's Hospital, Leukemia and Lymphoma Society , Evangelical Hospital - Thyra M. Humphreys Center for Breast Health
Love Promise Stories from W & L Subaru
Subaru and W & L Subaru believe in making a positive impact on the communities in which we live and work. We uphold that belief through our Love Promise Community Commitment. Every month, we select inspiring stories from customers and partners from around our area who strive to support our collective commitment and feature them here
Susquehanna River Cleanup Project - Danielle B
On Sunday, April 18, over 100 volunteers covered 10 miles in and around the Lake Augusta area to clean up the Susquehanna River for three hours. In just those few hours, we collected 6,000 lbs. of garbage, 3,000 lbs. of tires, and 500 lbs. of scrap metal for a grand total of 9,500 lbs.! Unfortunately, our event was cancelled last year and we were unsure if we'd be able to pull off our event this year. Thankfully, our group got together 5 weeks before the event and quickly put together all of the details. With this short notice, we called upon W&L Subaru to help sponsor our shirts. Our volunteers work hard to make our area and world a better place. We always like to say 'Thank you' with a small token of a t-shirt. W&L were quick to respond and ready to help us despite our short notice in planning. We thank you for being a part of our team!
---
Employees Show The Love!! - Jennifer K
Demonstrating they are more than a car company, Subaru retailers just concluded a two-year campaign that helped provide 2.25 MILLION meals to the Central Pennsylvania Food Bank's 27-county service area. In addition to giving financially, many dealerships also volunteered at the Food Bank's Healthy Food Hubs packing nutritious meals. Together, they packed over 350 boxes totaling 21,700 lbs. of food. The Central Pennsylvania Food Bank has provided more than 58 million meals to our neighbors in need since the beginning of the COVID-19 pandemic and thousands of those neighbors were facing food insecurity for the first time. Special thanks to W & L Subaru and Subaru of America employees for showing their love to our community!
---
More than $48,000 raised for pediatric care - Michael M
W&L Subaru held its 13th annual Share the Love event from Nov. 19 to Jan. 4 with Geisinger Janet Weis Children's Hospital represented as the dealer's hometown charity. During the Share the Love event, Subaru donates $250 for every vehicle purchased or leased to the purchaser's choice of participating charities. This year, due to the pandemic, W&L used heart icons displayed in the showroom to recognize their Share the Love customers. W&L raised a record-breaking $48,470 from donations during the program for equipment, programs and services at Geisinger Janet Weis Children's Hospital. These funds will help support critical services for local kids in our community like the Child Advocacy Center and the Child Life program. Photo caption: Representatives from W&L Subaru present a check to Dr. Paul Bellino, chairman of Children's Miracle Network at Geisinger. In the photo (from left) Rob Long, part owner, internet manager, Rob Long, owner, Dr. Bellino, Andy Long, part owner, dealer principal, and his wife Silvia Long.
---
Scholarship Fund Donation - Karissa B
W & L Subaru is a huge blessing to the Shikellamy Softball Community. They were generous enough to donate to our newly established Scholarship Fund. We started the fund in remembrance of our Head Coach, who passed away unexpectedly this past year. It was a terrible loss to our program and the community. We decided to start the scholarship, in his name, to give back to the people that meant so much to him. We had a lot of difficulty with how we would begin this scholarship, with taking a huge hit on our fundraising due to Covid. We reached out to our community. W & L really stepped up. They donated $250 to our scholarship! This is a huge help! We are beyond thankful to them. We appreciate their thoughtfulness and the recipient(s) of the scholarship will too!
---
A Pandemic Can't Stop The Love - Jennifer K
The Central Pennsylvania Food Bank has seen an outpouring of support from the community that has been incredible. Thousands of generous individuals and companies have helped to Give Hope Now, but our work is far from over. The Food Bank has seen demand for food assistance increase more than 40% in the past year and expects demand to remain at these high levels for the next two years. With a "strong front" to combat hunger, the Food Bank and its more than 1,000 partner agencies and programs provided over 50 million meals this past year. But community support is what gets the job done - volunteering, donating and raising awareness all contribute to addressing food insecurity across Pennsylvania. Thank you W & L Subaru for your generous donation of 207,186 meals to the Central Pennsylvania Food Bank. Together, we can end hunger. https://www.centralpafoodbank.org/
---
Blankets for Local Families in Need - Emily M
W&L Subaru donated several boxes of blankets to Union-Snyder Community Action Agency (CAA) to provide to our housing insecure customers just in time for the cold winter months to arrive. CAA is the go-to housing provider for Union and Snyder county families. We provide assistance in 14 other issue areas in addition to housing, like education, employment, and transportation; however, we operate in the model that people need the basic necessity of shelter before addressing these other issues. This donation from W&L Subaru will help remind families that they are thought of and cared for, especially during this particularly challenging time. CAA recently found same-day housing for a young person who was evicted without notice, and because of the last-minute nature of the eviction, they needed blankets to stay warm in their first few nights in their new apartment. This simple household staple means everything to a family experiencing a crisis, and we're so grateful for the partnership with W&L so that we can "share the love" with more deserving neighbors.
---
My Eagle Scout Project - Zach G
My name is Zach and I am a Life Scout in Troop 247 working towards my Eagle rank. For my Eagle Scout project, I built a memorial garden for first responders at my local fire company. I knew that my project was going to take a lot of hard work and planning and that I would need help from local businesses to help me raise enough money to complete my project. I reached to Andy Long at W&L Subaru to ask for a donation. Mr. Long was excited to help and easy to work with. He mentioned that he would be happy to help the scouts and the community. In return of me asking for a donation, he did so much more than what I expected. Mr. Long and a group of his staff from W&L Subaru showed up on my workday to chip in and help with my project. I'm extremely grateful for Mr. Long and his team's help, because without them I would not have been able to buy supplies or get the amount of work done that we did. The memorial garden came out better than I expected. It is everything and more than what I wanted it to be. I have received a lot of compliments from the fire company volunteers and people passing by. Due to the amount of donations that W&L Subaru and local businesses helped with, I was able to give the remaining funds to the fire company as a monetary donation in addition to the memorial garden. I was very happy to be able to do this project for my community, because it symbolizes how important it is to thank our first responders for their service. I am very happy that there are people like Mr. Long in our community who feel the same way. Thank you again Mr. Long and the W&L Subaru Team! Zach
---
W & L Subaru goes to the dogs - Bonnie M
Six dogs and a crew of volunteers from Mostly Mutts, Sunbury, renewed a friendship with W & L Subaru at an October 2020 adoption event. In conjunction with Subaru of America's Subaru Loves Pets promise, W & L hosted a "meet and greet" at its dealership along Route 11 in Northumberland to introduce Mostly Mutts and dogs available for adoption to the community. Several vehicle shoppers submitted adoption applications for dogs during the event. W & L also donated $10 for each of the 395 test drives during October, resulting in a much-needed cash infusion of $3,950 in a year when the coronavirus pandemic canceled most of the shelter's fundraising events. W & L promoted Mostly Mutts in its radio and TV advertising, as well. Vehicle shoppers donated an additional $160. The 2020 "meet and greet" and Mostly Mutts' selection as W & L's Subaru Loves Pets nonprofit organization were designed to find forever homes for animals at the shelter and provide financial support for their care while they await adoption. Mostly Mutts, established in 2000, is a no-kill shelter that houses an average of 75 dogs and a dozen cats. For information on animals available for adoption, the adoption process and ways to provide financial support, visit www.mostlymuttsonline.com.
---
W&L continues to support the health of local kids - Mike M
W&L Subaru in Northumberland recently presented a check to Geisinger Janet Weis Children's Hospital for the annual Subaru Share the Love event held from Nov. 14, 2019 to Jan. 2, 2020. During the event, customers who purchased or leased a new Subaru could donate $250 to the children's hospital or the charity of their choice. W&L personally matched donations to the children's hospital as their hometown charity for the event. W&L also held a special event on Nov. 23 at the dealership, which included a live radio broadcast from KISS FM, holiday-themed dance routines by Karen Gronsky School of Dance, face painting and balloon making as well as a visit from Santa Claus and one of his reindeer. The entire Share the Love event raised $40,103 for Geisinger Janet Weis Children's Hospital. Donations from the campaign have been used to fund equipment, like transport incubators for Geisinger Life Flight. Donations have funded programs like the Child Life Department that helps to offer distractions and comfort for children while in the hospital. Funds have allowed for services such as Geisinger's Child Advocacy Center (CAC) in Sunbury, which serves the children who are victims of child abuse throughout the area. This year the Subaru Share the Love event will run from Nov. 19 to Jan. 4 at W&L Subaru, 535 Point Township Drive, Northumberland. Photo caption: On hand for the check presentation were (from left): Meghan Balum, Marketing Director at W&L, Silvia, Andy and Bob Long, owners of W&L, Paul Bellino, MD, chairman of Children's Miracle Network at Geisinger and Glenn Bernius, Geisinger Health Foundation System Director for Women & Children's Institute.
---
W&L supports Evangelical Community Hospital - Kathy A
In October 2019, W&L Subaru partnered with Evangelical Community Hospital's Thyra M. Humphreys Center for Breast Health to raise money to support women battling breast cancer. W&L pledged a donation of $10 for every test drive conducted during their October sales event and raised a total of $680! The Center for Breast Health will be using the funds to provide financial assistance to women in the area who are uninsured or underinsured and need breast cancer screenings. Evangelical Community Hospital is very grateful for partners like W&L Subaru whose support helps women stay on top of their breast screenings to make their health a priority. We look forward to working together in the future to continue building a healthy community.
---